How E-commerce Sellers Use IXSPY and ixBrowser to Maximize Benefits
With the continuous development of network technology, more and more people have begun to devote themselves to e-commerce and create their own online stores to make money. It is roughly estimated that there are at least more than 20 million e-commerce sellers in the world.
People flock to e-commerce because they see the value, but as more and more people join in, it becomes more difficult to stand out from the crowd of sellers.
How to become a successful e-commerce seller?
Provide an excellent customer experience
Providing excellent customer service, including fast response, easy shopping process, convenient payment methods, accurate order tracking, etc., can help you win loyal customers.
Provide high-quality products
Select hottest winning products by using data tools (For example:
IXSPY
). Providing high-quality products, ensuring that products meet promises, and fast delivery is the key to attracting and retaining customers.
Develop a differentiated marketing strategy
Create a unique brand by locating target customers, understanding their needs, and providing products and marketing strategies that meet their needs.
Maintain a good reputation
Actively respond to customer questions and feedback, deal with customer complaints in a timely manner, and avoid using dishonest means to gain business benefits.
Create a professional online store
Use a color palette that makes your customers feel comfortable, and choose a theme that matches your products. Provide a clear, easy-to-navigate website and store to make the shopping process easier and more enjoyable.
Establish extensive social media influence
Expand brand influence through social media platforms and attract more target customers. You can also expand your user reach by creating multiple accounts on one social media platform with the helps of anti-detect browser (For example:
ixBrowser
)
How IXSPY Helps E-commerce Sellers?


Multi-platform & Billion-level Database
IXSPY currently covers Aliexpress, Shopify, and Etsy. At the same time, our Shopee tool has also been officially launched for beta testing in past one month. IXSPY tool has a billion-level database, the products and stores data are fully updated every day.
Competitor analysis
IXSPY can help sellers understand competitors' products, pricing, reviews and other information, so as to help sellers understand competitors' strengths and weaknesses and formulate more effective product selection strategies.
Discover popular products
Through IXSPY's diversified list, sellers can quickly discover popular products, understand market trends and current leading products, so as to help users to discover winning products more easily.
Fine sorting
IXSPY can filter out products that meet the requirements according to the seller's needs and conditions, such as price, sales ranking, keywords, etc.
Data analysis
IXSPY can analyze and compare product sales data, trends and reviews to help sellers understand the market and customer needs.
Monitoring and tracking
IXSPY can track products and stores which can help sellers adjust the product selection strategy and competitive strategy in time.
How ixBrowser Helps E-commerce Sellers?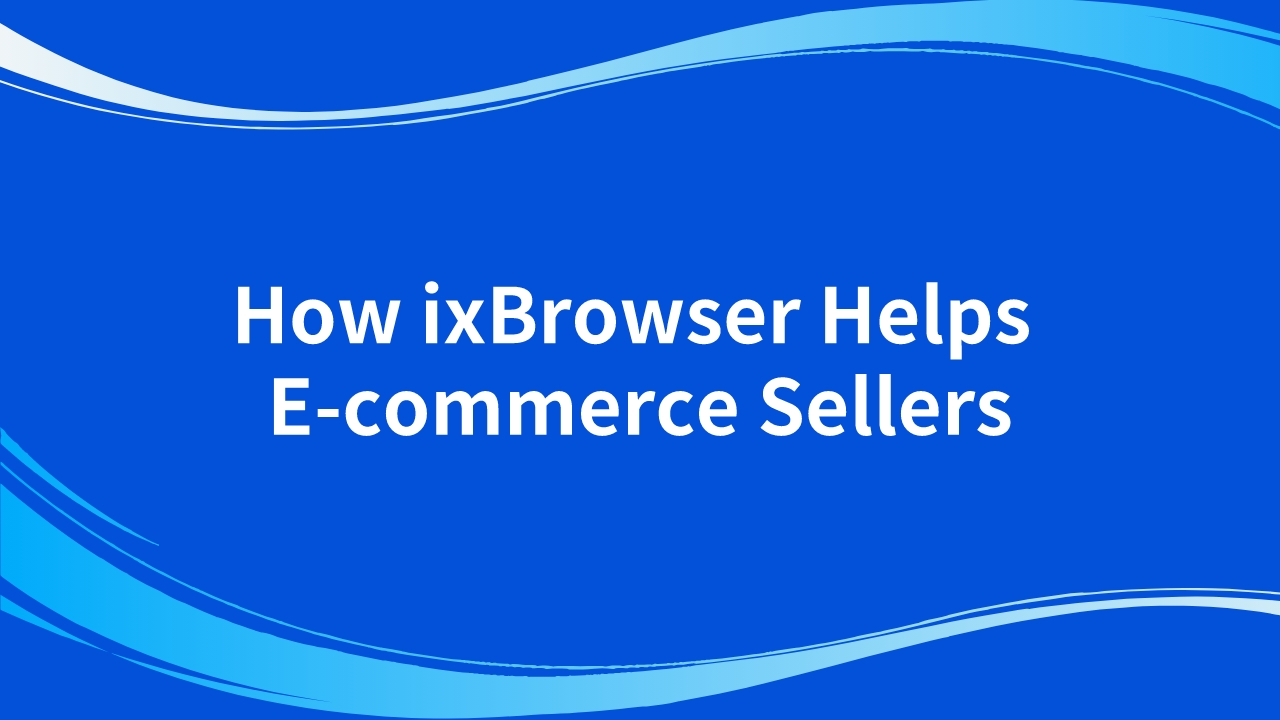 ixBrowser helps sellers avoid platform detection and prevent multiple account associations by digital fingerprints isolation and proxy isolation. Compared with traditional VPS and multi-network methods, ixBrowser is more flexible and cheaper. At the same time, the team management function allows sellers add multiple team members and set permissions and profiles for different members which improves work efficiency and make multi-account management more easily.
As we all know, many platforms do not allow sellers to have multiple seller accounts. With the helps of ixBrowser, sellers can create multi-account and sell different categories of products to earn more money. Also, for social media platforms, sellers can also create many accounts to promote their products to attract more consumers' attention.
Conclusion
Both IXSPY and ixBrowser can help e-commerce sellers improve work efficiency and reduce operating costs.
IXSPY 7 days free trial:
https://ixspy.com/?code=iyql&trialcoupon=EFGKLR14
ixBrowser website:
ixbrowser.com
Welcome to chat with us:
https://wa.link/echoc8